Inverter system Dental Intraoral X-ray that pursues simplicity "KDEX-DII"
70kV type X-ray unit utilizing a wide-range inverter system. Greatly reduces soft x-ray components that are harmful to the human body. Highly accurate, and capable of capturing clear images that convey much information. The construction of the main body is identical to the 60kV type. (The head and inverter differ.)
Photographic position and patient mode (child or adult) can be selected to simply display the programmed exposure time. (It can also be manually adjusted in durations of 0.01 seconds)
Includes a density switch function to respond to film sensitivity.
The appropriate time can be set via the illustrated touch switch.
The compact control box is easy to install and set up.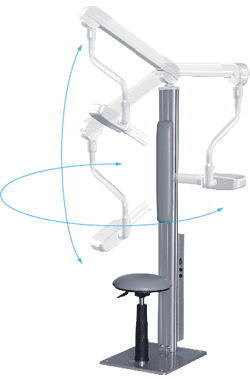 【Dental Intraoral X-ray equipment】KDEX-DII Specifications
Medical device certification number


224AGBZX00050000


Product name


KDEX-DII


Rated output


70kV 6mA  3.2seconds


Rectifying system


Inverter system


Tube voltage


70kV


Tube current


6mA


Ignition system


Advanced ignition system


X-ray tube


Toshiba D-0811


X-ray tube focus


0.8×0.8mm


FSD


200 mm(focal spot to skin distance)


Total filtration

2.5 mmAL

Supply voltage


Single-phase 220VAC


Power frequency


50/60Hz


Consumption current


10A or below


Photographing time


0.05 seconds to 3.2 seconds

Adjustable in 0.01 second steps


Total weight


50Kg


Dimensions


1080(W)×1000(D)×1960(H)


Panel dimensions


165(H)×130(W)×45(D)